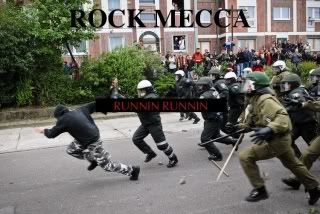 We got another joint off newcomer
Rock Mecca's
upcoming new and debut release
"Pirate Radio Star"
...
The first joint we experienced came from Rock back at the beginning of September with
"New York Noise"
.. Much like that single, the B-side; "Runnin Runnin", supplies that good ol' NewYawk aesthetic in gobs.. this time Rock gives us somethin a lil' more bouncy, but no less hardcore..
I'm excited for this cat.. he's talented and crafts songs well....Be on the lookout for that new LP!
Rock Mecca - Runnin Runnin