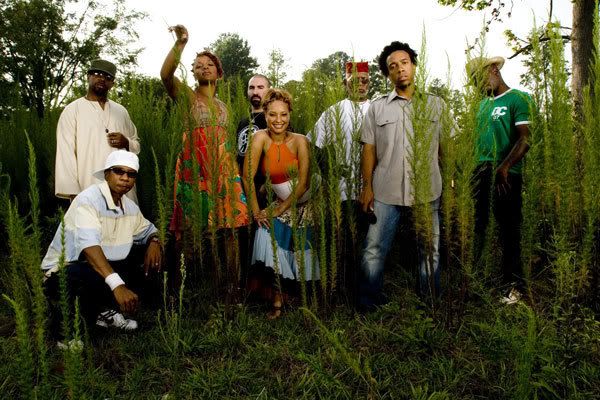 In case some of you youngins are too green to remember, good alternative Hip-Hop has been around fro decades, it didn't just start with your favorite lil' rhyme group that works references of gas hybrid cars and Chai tea into their rhymes...
In fact, back in the day, especially the early 90's, there existed a collective (at one point 12 people) of wonderfully talented and uber ill emcee's, dancers, band players and singers that took the game by storm with a joint ("Tennessee") and an album,
"3 Years 5 Months & 2 Days in the Life of.."
that I'll forever label one of the greatest songs Hip-Hop has ever produced...
Catch up with the group's dancer
Eshe
and vocalist One Love as they update you on what life is like now, the newest Arrested Development record
"Strong"
and their opinions on some of the directuions the game is taking now. Interview by Kristie Bertucci for
BallerStatus.com
-BIG D O
BallerStatus.com: What would you say you'd like to achieve with your music over all, and what type of legacy would you like to have in both music and hip-hop history?

Eshe: Oh, man, for me I would say life changing. We did a show in Winnipeg, MB Canada and it was so beautiful. This lady came to talk to us and told me that her daughter struggled with an eating disorder and loved the fact that we were comfortable in our skin as beautiful black women. She made me cry. She was like, 'I wish my daughter was here to see you guys.' It blessed me, and I want our music to be life changing in a positive way. I'd like to think that we'd be remembered for making music that made people look at themselves and make a choice to be a positive change in their community, our world and the lives of others.

One Love: I totally agree. I've been in the group for 11 years now, and I remember when Arrested Development first came out. It was life changing for me when I first heard the group. They inspired me to learn where I came from and listen to more positive hip-hop music. It's been an honor to be in the group and make music that is life changing. I love to see the reaction of people in the crowd when we perform certain songs. The legacy has already been laid, and I would love to see the evolution of it even more.
Read the rest here