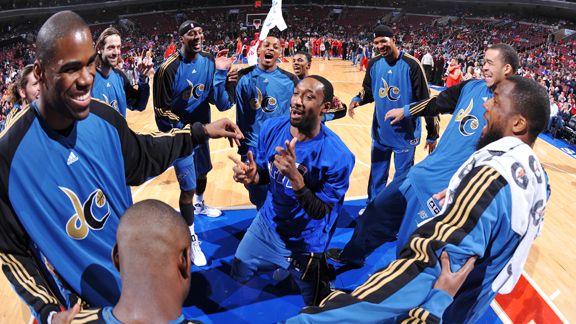 If you haven't heard by now the NBA's $111 million dollar man, AKA Gilbert Arenas has been suspended by NBA commissioner David Stern indefinitely for
threatening to blow off Javaris Crittenton's head and not ante uppin' on a previous gambling debt
admitting to storing unloaded firearms in his locker at Verizon Center in Washington D.C., violating NBA regulations and D.C. ordinances.
In all actuality Stern probably deemed Arenas "not currently fit to take the court", more so because of his recent antics than anything else. Gilbert is still under investigation, but Stern had originally planned to wait to take any actions against the embattled Agent Zero, but "grew tired" of his behavior, which in recent days had been non-chalant, even jokey concerning his massive flub. So, in true Stern style, the commish handed down the suspension swiftly, and indefinitey til' the investigation is concluded.
Perhaps it was his overly jestful, frivolously disrespectful statements on Twitter and to the media about the situation or even the hand pistol motions he was photographed performing (above) before a game in Philly last night that goaded Stern the worst, really it's uncertain the specific incident that forced the commissioner's hand. What is certain is that Arenas stands to lose $147,200 for each game he misses...
Arenas, who BTW turned 28 today, made this statement thru his Lawyer in reaction to his suspension:
"I feel very badly that my actions have caused the NBA to suspend me, but I understand why the league took this action,". "I put the NBA in a negative light and let down my teammates and our fans. I am very sorry for doing that."
-BIG D O