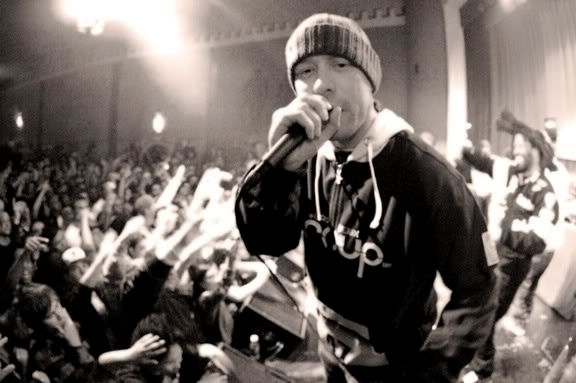 Whatup, Whatup.....Checking in momentarily from the hustle and bustle of the holiday weekend madness to drop a nice lil' gem on ya'll from BK-One, the man who commands the wheels of steel for Brother Ali....
Preparing his upcoming compilation-style album "Rádio Do Canibal", the Minneapolis native links with fellow Minnesota beatmaker Benzilla and three of the underground's most noted champions to create a laid back banger of a track.
Recruiting Phonte of Little Brother to drop science through a strong 16 as well as a dope chorus, the N.C. MC anchors a heavyweight performance from fellow, like-minded and like-skilled performers Brother Ali and The Grouch. A great first leak....
Oh and in case you were wondering, BK's "Rádio Do Canibal" drops on October 6th and will feature some of Minneapolis' best as well as names like Scarface, Murs, Black Thought, Raekwon, Haiku D' Etat (Aceyalone, Myka 9 & Abstract Rude), Blueprint and I Self Devine, among others....
get your pre-order on wit the swiftness if you know wassup:
http://www.fifthelementonline.com/bk-one-radio-do-canibal-cd.html
-BIG D O
http://usershare.net/7x87s2ed1yat