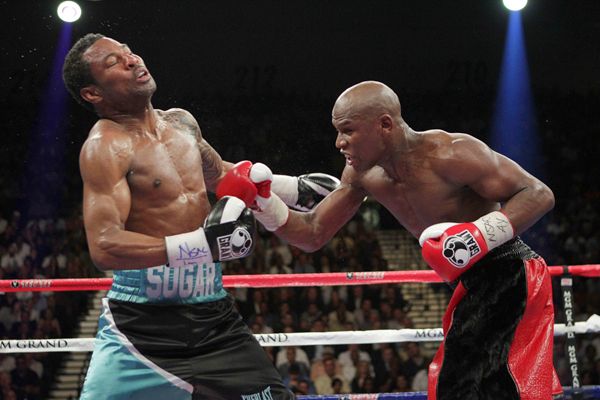 These days I spend a hell of a lot of my time on the weekends looking at, talking about and lamenting modern sports. Like many of you were, I, once again was up to my usual routine taking in last night's "super fight" that really stacked up to be nothing more than a glorified sparring match with a few pre-mature fireworks.
Sure Mosley still has a chance to redeem the loss by taking on a poised young Andre Berto in coming months, but truthfully that's not what is gonna garner the attention of the entire Boxing world and his lack of urgency from the 3rd round on in last night's bout was one of the most deflating and disappointing outputs I've seen in quite awhile from a veteran of his caliber...
Mosley skittishly opted to play it safe and try to box with the much faster Mayweather, who easily dismantled the slower, less crafty 38 yr. old. Mayweather Jr's demeanor throughout the fight must be applauded--he kept the shit talking to a minimum and racked up some serious style points not only for that eye-popping fur/leather ensemble he wore into the ring but also for getting the O'Jays to perform their 1973 hit
"For The Love Of Money"
as he did so.
Another point of interest must be Mayweather's gutty handling of Mosley's only highlights from the fight; two hard shots that temporarily stumbled, then buckled Money's legs in the 2nd round....The brilliantly fast welterweight gathered his faculties and recovered to put on a boxing clinic at Sugar Shane's expense for the remainder of the fight, improving his record to a perfect 41-0 and showing broad signs of perhaps really being the truest, most gifted American champion that Boxing has ever had to offer us. Wow, I can't believe I just said that...
Careful "Money", you may be in danger of becoming a beloved fighter known for taking risks and fighting to the burger.
-BIG D O